Urban Design as a Multi-scale and Multi-disciplinary Field of Endeavour
The engagement with the city in the fields of urban design and city planning is a cross-sectional area of study that carries over various policy-making approaches to space and advances the urban and formal manifestation of political visions, claims, and goals in space. If the city is understood as a socio-historical process, it follows that the relationship between the city and its designers is also in a state of constant change. Numerous levels of scale, from small residential spaces and districts (and their micro-architectures) up to urban and regional settlement patterns (and their urban and regional planning scales), shape urban design and planning, in terms of content as well as method, in design and as text, in city quarters and in the metropolis.
The Study of Urban Design and Urban Planning
The goal of the following thematic schema is to establish lateral thinking and productive connections between the relevant fields of research. This enables students to gradually learn to balance different normative objectives and expert approaches within and external to planning, and to give consideration to different factors influencing spatial policy. Accordingly, five main areas of study are presented below.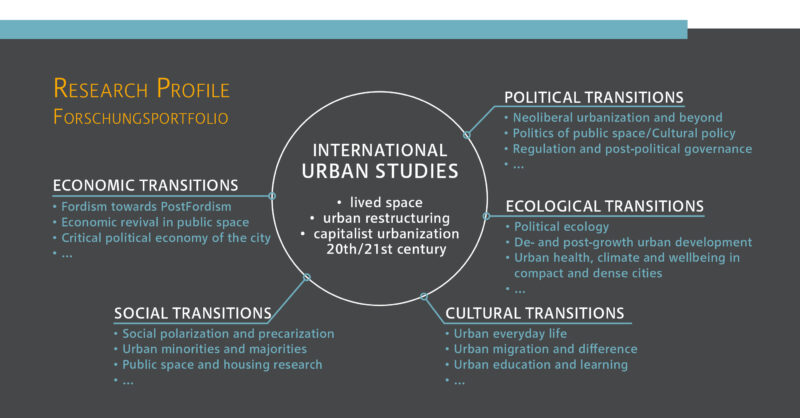 Field of Research: Urban Culture
When it comes to culture and urban development, in the wake of structural change, creatives and artists often endeavour to kickstart a city's economy. A second area that is closely related to the cultural debate is the effort to interlace culture with the themes of migration, ethnic diversity, and integration. Where these approaches clearly define a narrow concept of urban culture, staff at the Interdisciplinary Centre for Urban Culture and Public Space aims at a broad understanding of urban culture as a centred view of urban development. This involves a) the nuances of the realities of daily life and the daily activities of the people in the city who are critically important to an informed understanding of building and design; (b) the requisite reflection on the personal normative value systems that are conditioned professionally and biographically and embedded into urban development by creators of architecture and planning; c) methodologically, a cultural studies perspective that systematically provides multi-method approaches to praxeologically-oriented research of urban culture and imparts skillful urban design with a selection and diversity of methods. Transdisciplinarity, that is, the exchange between theory and practice, is not supplemental to the toolkit, but rather its fundamental prerequisite. A contemporary strategy for working with cultural heritage can especially enhance this focus by reinterpreting everyday cultures in the city. Cultural perspectives in city planning and urban design thus bring with them methodological armour and versatile possibilities for revising and enriching urban design and planning instruments, and consequently building and design cultures on the one hand, and on the other hand, they make it possible for planning and design to engage difference and diversity, with the 'other' in the city with regard to various categories of difference, such as religion, milieu/class, status, origin/nationality/ethnicity, gender, and education/background.
Field of Research: Urban Economy
Historically, urban design and city planning have had a strong economic effect on land policy, land management, location policy, and the negotiation of land and property rent in welfare economics. Theories about the relationship between the use and exchange value of space were also expanded around the new role of symbolic economies (cultural, medial, and attention economies) in urban development by the time structural change coined as the shift from Fordism to postFordism began. On the one hand, these analyses are concerned with municipal provision of city dwellers with basic public services and the alteration of ownership conditions in the city, and on the other hand, urban design and city planning deal with various partnerships and coalitions on a per project basis, with a view to the activity of markets and market players in urban space. In the course of structural change, co-operative coalitions are increasingly forged between market, state, civil society, and other institutions (such as public-private partnerships, construction or service concessions, BIDs, urban design contracts, etc.). Moreover, during the last decades, city administrations experienced an entrepreneurial shift (the 'entrepreneurial city') that the social sciences have taken up with some scepticism, and which is interpreted as a neoliberal turn. While an economic analysis of the urban economy continues to take priority in the areas of public infrastructure services (water, gas, electricity, waste collection, etc.), management rationales (project life cycles, short-term return expectations, controlling, etc.) are also catching on in the public sector. Economic perspectives therefore have a significant impact on urban design and city planning. They provide a view of the prevailing innovations and new labour markets in the city, and consequently, of the restructuring of the urban economy. At the same time, however, they also point to economic crises that accompany the emergence of a global economic structure and recurrently lead to the decline and decay of urban space and precarious conditions of urban life. It is the task of this area of study to elucidate the dilemma of an unstable, crisis-prone, and at once innovative capitalist urban development, and to explain it using specific examples. To this end, a differentiated, equally constructive and critical view is presented of the different contributions of economics, business management, and social sciences research to urbanization processes in the period of late capitalism.
Field of Research: Urban Ecology
A sustainable approach to natural resources is a particularly necessary prerequisite where many people are living together in a tight space. On one hand, cities are thus ecologically dense and climatically polluted ecosystems, but at the same time they also bring forward new niches and opportunities to protect scarce resources (flora, fauna, the social world). In this field of study, city-rural dynamics and strategies of overcoming the urban-rural opposition are discussed, sharpening a view of 'other' urban dwellers (plants, animals, viruses, nanoparticles, etc.). Aspects of land reclamation, conversion, interim uses, and the re-use of urban brownfields, open spaces, and ground floors play a key role here, as do innovative new ideas about urban energy and resource production (such as fish farming on urban buildings). On another scale of spatial planning decisions, aspects of climate change, urban climate policy, and climate protection, as well as changes in (national, regional, and local) energy policy and its impact on urban ecology and urban environmental policy need to discussed as regards their impacts for urban design and urban planning. Ecological perspectives are indispensable to the fraught practice of city planning, which is why this field of research is aimed at imparting and deepening the students' spatial knowledge about urgent environmental policy issues such as climate protection, resource conservation, and energy use, in relation to lived space analysis. In addition, connections to landscape ecology, open-space planning, and the design of open spaces are being made.
Field of Research: Urban Society
As an area of study, urban society refers to the positioning of planners within processes of construction, design, and participation, and addresses spatial disadvantages, peripheries, and the spatial demands and requirements of marginalized groups in the city (such as groups with lower chances of access to education and skilled work) as rigorously as those of the majority society (including the urban middle classes, different urban milieus, newcomers to education, etc.). In addition to the planned, built, and designed housing patterns and their multiple effects on social activity, constitutive spatial characteristics of social action also come to the foreground/forward: at the micro-level, processes of (development) planning, planning by grassroots collectives (e.g. NGOs and other actors in civil society and associations, etc.), all have a role, along with sociological and socio-spatial views of public space design processes. At the meso-level, we treat the link between the individual (micro-level) and institutions in various fields of relevance (work, family, politics, school, leisure, culture, housing, etc.), as well as the link between the state, the economy, and civil society (e.g. through trade unions, NGOs, churches, and associations). On the macro level, socio-political, technical, and political aspects of urban planning and urban design and their historical transformation are also discussed. As areas of study oriented to design and architecture, affording a differentiated perspective of the multifaceted needs, habits/modes of living, and everyday practices of very different social groups in the city, they mediate planning and ethical considerations for potential approaches to a negotiated approach of planning and design to the city, as a collective social actor. Approaches rooted in the sociology of innovations and of organizations are also engaged in order to further advance research on social innovations, especially with regard to city administrations as innovative actors. It is the task of the study of urban society to conceive (active) theoretical concepts of space, together with practice-oriented approaches to urban design, as fields of action that are methodologically structured and characterized by variously valued spatial development in the city. Demographic traits and features of settlement patterns are elements discussed by the spatial-sociological discourse on the city, along with the topics of mobility and environmental behaviour.
Field of Research: Urban Policy
A view of the relationship between urban design, urban planning, and urban policy makes possible, firstly, within the context of policy analyses, an explanation of the content, objectives, and methods of urban policy as a field of real action that is divided into various subfields: urban development policy, urban planning policy, open space and environmental policy, urban design policy, and other relevant fields of urban policy (including social and labour market policy, education and cultural policy, health policy, and integration policy). Secondly, a view of the structural framework of the policy (urban polity analysis) expands this outcome-oriented policy analysis to the political organizational framework established between the district, the city-state, the region, and the state at the respective location. With this understanding, urban development can be conceived as an institution within the framework of the democratic state that is equipped with (sovereign) tasks, responsibility, and resources, and performs alongside a defined 'public interest'. A view of urban design and planning history makes clear that these institutions are shaped very differently by specific actors, protagonists, and personalities with specialized modes of action, perceptions, and attitudes, with which the approach of actor-centered institutionalism is engaged, among others. Third, political (field) analysis and the institutional analysis of structural arrangements and the ability to shape political processes are complemented by the input-oriented investigation of the processes of urban development policy (such as ongoing projects), the actors involved, including their resources and interests, and the way political decision-making (conflict resolution, consensus building, addressing dissent, etc.). Here, the transfer of knowledge also plays a central role with respect to political cultures and political milieus. For a differentiated investigation of policies, polity, and politics in their interactions in urban policy, governance may be used as an analytical tool, whereby a critique of governance as an affirmative rhetoric of really existing neoliberalism is to be methodically reflected as well. In a broader sense, the field of urban policy deals with two perspectives of political action in the city: with institutionalized politics (parties, governments, administrations, political programs), and with 'the political' in the city (political parties in the public sphere, demonstrations, protests, social movements). Even in the interrelation of these two spheres of action, where representative forms of democracy encounter a fundamentally democratic understanding of the right to the city; emancipatory practices for different residents in the city arise (citizens eligible to vote as well as city dwellers without the right to vote, such as children, new arrivals, international residents, etc.); and there is the potential for a critical urban public, and hence the control of state action by many. However, this does not happen automatically, and sometimes public spaces and numerous conflicts in public spaces will show that they function as a seismograph of the social peace in the city and region. This field of research not only fulfils the task of coherently analysing the inner workings of urban design and city planning processes; it also illuminates the basic functions of these disciplines as well as their transformation.
Prioritizing the Fields of Research
The five subjects mentioned above – urban culture, urban economy, urban ecology, urban society, and urban policy – are initially assessed as being of equal value to planning and urban design. They mutually influence other fields continuously, and are therefore not always clearly distinguishable from one another. The above image summarizes the five fields of research. They afford the option of linking to other lectures and professorships at the TU Wien and other universities.